Who is having memory relapse? Tun Dr Mahathir or Tan Sri Tajudin Ramli?




Video from TheStar
The case is really heating up, with leaflets being distributed in the Dewan Rakyat, and Tun Mahathir denying the allegation that he forced Tan Sri Tajudin Ramli to purchase Malaysia Airlines (MAS) to help bail out the central bank, Bank Negara.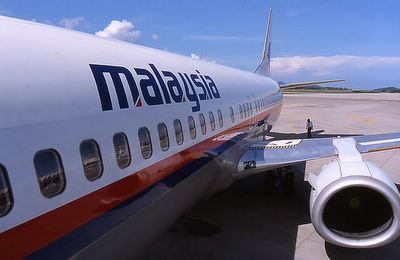 Excerpt from Bernama
KUALA LUMPUR, July 12 (Bernama) -- Three leaflets defending former Malaysia Airlines (MAS) chairman Tan Sri Tajudin Ramli on the issue of his purchase and subsequent sale of shares in the national carrier were distributed to two Members of Parliament Wednesday.

Copies of the leaflets were placed on the desks of S.K. Devamany (BN-Cameron Highlands) and Dr Wee Ka Siong (BN-Ayer Hitam) before the Dewan Rakyat sitting began.

One leaflet in Bahasa Malaysia carries the title "Tuntutan Balas Tajuddin Ramli Terhadap Danaharta, Mengapa Dia Berbuat Begitu?" (Counter Claim by Tajuddin Ramli Against Danaharta, Why Is He Doing It?) while another is the English version.

The third leaflet is also in English with the title "The Tajuddin Ramli Bombshell: Who Is the Real Culprit?"

Excerpt from AP news
KUALA LUMPUR (AFP) - Former Malaysian prime minister Mahathir Mohamad has denied a bombshell allegation that he forced a local tycoon to buy Malaysia Airlines (MAS) to help bail out the central bank.

Businessman Tajudin Ramli is suing for compensation over the deal, which he said Mahathir forced him into in order to raise money after the airline's then owner Bank Negara suffered massive foreign exchange losses.

"I don't remember instructing him to buy MAS shares. At that time the goverment was not short of money. Yes we lost some money but we know what to do, how to recover, and we recovered," Mahathir told reporters.

"Perhaps you should ask him how he came up with the conclusion that I forced him to buy MAS," said the former premier, who had just returned from overseas and was responding for the first time to the charges aired earlier this month.

Tajudin was one of a number of Malay entrepreneurs hand-picked by Mahathir in business dealings as part of efforts to boost the wealth of the country's majority ethnic group, or bumiputras as they are called.

Analysts have said the affair has shed light on long-held beliefs about government assistance given to bumiputra businessmen in the country.
tags :
Tun
Dr
Mahathir
mohamad
denies
forcing
Tan
Sri
Tajudin
Ramli
to
buy
Malaysia
Airlines